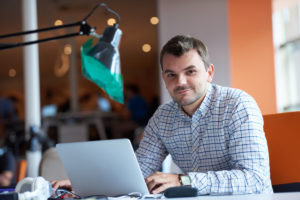 In every career, there are people, places, and things that help to shape who you become in that career. A Retail Loss Prevention career is no different. My career in Loss Prevention goes back nearly 27 years. A long time ago in a department store not far away I was hired as a Loss Prevention Associate with only my military experience and a college degree in hand. I had absolutely no Loss Prevention background. There have been lessons learned along the way that shaped the way I approached Loss Prevention and the way I developed my style of working with people and managing others.
     Coming from a military police background I first approached Loss Prevention with a law enforcement perspective. Unbeknownst to me, a former supervisor of mine from my old unit was working part-time at the store to which I was applying for a job. He saw my application and encouraged the L.P. Manager to hire me. I was trained by this co-worker and the L.P. Manager who also had a military background. We formed a strong team and were very good at catching shoplifters. I learned a lot about identifying suspects and even learned some aspects of investigating an internal crime. What we didn't do as well I learned later in my career was having a more global outlook on the role of L.P. in the store.
     A little over four and a half years later I found myself hired as a Loss Prevention Manager for another company. Because I was in the same city I brought along my police partnerships, knowledge of the crime in the area and my same perspective. I viewed the work as closely related to police work. It was in this store that I found I had to earn the trust and respect of a Store Manager who had over twenty years of experience with this company. I did not report directly to this manager but rather to a District L.P. Manager who did not get along well with the store manager. I was new to the company, opening a brand new store in a remote market and caught between these two bosses. There were a number of lessons I learned during the tenure of these two. I found there are times you have to learn how to do a delicate balancing act between two managers making demands of you and your team. I learned from the store manager to expect excellence from your team. From the District LPM, I learned to be confident in my interactions.
     After a year a new DLPM took over and from him, I learned that there is more to the L.P. business than saving money. I found out that based on my experience and degree I was hired at a much lower salary than I should have been when I was made a job offer. This new manager went to bat for me and got a mid-year pay increase for me that I had not sought and learned were rarely awarded. While I often disagreed with this supervisor over some of his directions I always respected him for what he did for me though he had only known me a brief time.  Being fair and treating people with respect were valuable takeaways from this manager that I never forgot.
      As the years went by I found my own perspective on what the role of Loss Prevention in stores should be and it changed how I interacted with the others in the store management team. I began to see our department as less a policing department and more of a shortage reduction department. That included the traditional efforts to deter and/or catch shoplifters as well as investigating dishonest employee activity. I also focused on many of the factors that impacted operational shortage, the markdown process, product out of date issues and even employee best practices with freight unloading. As I spent time in other departments I learned more ways to make an impact on overall store shortage.
     Today, my Loss Prevention experiences are used to help me drive sales and deter theft as a retail sales associate. I have carried the management skills into a library supervisor position. I also have the opportunity to provide insights into Loss Prevention and improving sales and how Loss Prevention Systems Inc. can assist businesses in becoming more profitable. As you read this article I would challenge you to look at your own career, whether it is in Loss Prevention or in retail or just in life and reflect on how you have adapted your style and who has influenced your career.
---