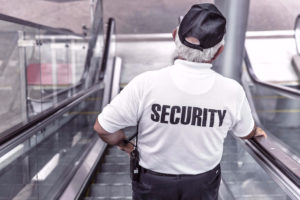 We supply and install the best anti-shoplifting equipment made. Checkpoint Systems is the gold standard of Electronic Article Surveillance (EAS) equipment. Support is off the chart. Checkpoint Systems has factory Tech's everywhere, I mean EVERYWHERE. They have to since the majority of the top retailers in the world are using Checkpoint equipment. These Techs are not sub-contractors. They are skilled EAS, Radio Frequency (RF) experts. As an example, my Sr. Tech Dan is a former Navy Electronics Technician; he worked on highly advanced systems that protect our country.
That's all good and well but we can install the best equipment using the best people out there but if you do not have the right attitude, you will not have solved your shoplifting problem. You will simply have spent money and felt good about what you purchased but YOUR SHOPLIFTING PROBLEM WILL COME BACK.
You have to instill the right attitude about shoplifting prevention in yourself and your staff. Shoplifters are not afraid of the Checkpoint equipment all by itself. But, they are very afraid of the Checkpoint equipment when it is supported by a trained, knowledgeable staff. The equipment will work. It will notify you when someone tries to steal a protected piece of merchandise. But you have to be on your game long before this happens. Do you know what shoplifters look like? Do you know how to spot them before they steal? You can easily expose a shoplifter in your store with the proper customer service techniques. These skills will not make the shoplifter transparent but will delight your good customers and increase your sales. Good customers love attention, shoplifters hate it.
I believe this so deeply that we at Loss Prevention Systems include free, live shoplifting training as often as you reasonably need it. Staff changes, new manager or supervisor, new employees that are new to retail or your store? Let us train them, free of charge, for the life of your Checkpoint System when you buy it from Loss Prevention Systems.
So you get actual LP training from a former Director of Loss Prevention with over 35 years of experience. FREE!
So if training is the key, why do you still need the Checkpoint System? That is a great question and the answer is simple. The equipment is there to support you when you cannot be everywhere at the same time. Retailers' biggest expense is labor. If we can keep labor dollars down, we are more profitable. The fact of the matter is that shoplifters seek out and even create situations where they steal when you cannot pay the attention required to spot and deter every shoplifter. By the way, one in ten people that are in your store right now is there to steal from you. That is where the Checkpoint System comes into play. It is working 24/7, does not take breaks, vacations, sick-leave or simply not show up. Checkpoint equipment has a great attitude and is always looking for shoplifters.
Now, what are YOU going to do to change your attitude and start getting the margins from your sales that you deserve? Contact Loss Prevention Systems now and make it happen. Chances are we will actually be able to assist you to begin stopping shoplifters before the system is even delivered and our amazing Techs can install it.
---