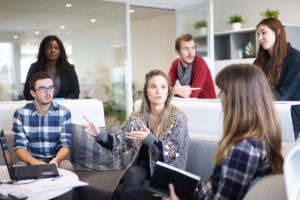 Leadership. It varies from person to person and company to company. As a business owner how you lead your team impacts the overall health and prosperity of your store. Does your team work for you and follow direction out of a feeling of obligation or fear? Do your employees do what they are told to do because of a concern that failing to do so could result in the loss of their job? If this is the feeling of the store associates they may not be doing more than the minimum to get their jobs done. This affects customer service and how employees interact with patrons. Poor service results in poor sales and inefficiency in operations. Leadership is as important as customer service and I would argue the two go hand in hand. I cannot think of a customer service driven business where the delivery of customer service thrived when the managers were loud, bossy or came across as distant.
Personally I have attempted to incorporate in my own management style a mix of a couple leadership influences. One is advocated by John Maxwell. The first book of his I read was, "The 21 Irrefutable Laws of Leadership". In his book he lays out what he describes as 21 principles that apply to leaders. There were a couple of his points that I made a conscious effort to apply (some were already an integral part of who I am) when I was leading my Loss Prevention team, my freight unload/ stocking team and as a Manager on Duty. Two of the characteristics Mr. Maxwell lists, "The Law of Solid Ground" and "The Law of Empowerment" are dimensions I believe can make a major shift in how a store team functions. The first idea is that people have to trust their leader. As a leader do you follow through on commitments to your team? Do you treat every person equally and fairly and do you provide honest feedback even when it may be difficult? The second is that strong leaders are not afraid to give power to others. As you empower your team to make decisions you build their trust in you and you are developing them into leaders. This means you train your team, set expectations and as they are learning, you correct and provide recognition to them.
Another leadership style I embrace is servant leadership. This manager is the leader who leads by the example he/she sets. It is also a manager who invests in the development of others. I have incorporated this in the course of my careers. Rather than ask a team member to clean up after a child has been sick in the store I have done it myself. As a freight team manager I frequently came in on a day off to help my team unload a truck and push freight. It is the willingness of the leader to be seen doing the unpleasant tasks alongside the rest of the team. A 70 foot trailer gets awfully hot and humid in the south during the summer. When your team sees you willing to get in that trailer first and rotate others out to avoid exhaustion they are willing to work harder to get the tasks done. Servant leadership does not mean supervision does not take place or that discipline is not occurring. It only means that the manager/supervisor attempts to be empathetic to situations where discipline may be required. These leaders do not allow themselves to be doormats but do look at individual circumstances when the situation warrants it. Think about how an employee is likely to respond to this manager as opposed to the heavy-handed supervisor who gives orders and barks directions.
Leadership styles directly influence the way a business operates and how employees function on the job. Yes, you can be the owner and expect workers to do what you tell them to do, but it won't foster a happy workforce. A leader who cares about the staff helps in their development and empowers them to make decisions will get far better results than the other leader. As customer service improves, productivity improves and the atmosphere of the building is one where shoppers enjoy spending time. It also creates a customer-focused climate where sales associates are actively engaging clients and that leads to a reduction in theft. Happy employees are also less likely to steal and that can impact up to 30% of where shortage traditionally takes place.
Evaluate your leadership style. Are you leading the way YOU would want to be led and are there adjustments you can make that can enhance nearly every aspect of your business? Leadership determines how successful your store can be.