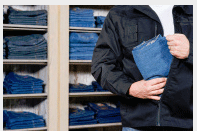 A Department of Corrections officer was arrested this week at a Walmart for shoplifting.  The perpetrator was a former Walmart employee who had left to become a corrections officer.  The incident was reported to the authorities, indicating the amount stolen was around $400 dollars during  45 visits at that particular Walmart.
The retail industry loses billions of dollars due to employee theft and shoplifting.  It is more difficult when former employees that were in charge of the loss prevention department or have worked there are arrested because of a shoplifting incident they are committing. This month a shoplifter; a corrections officer and former Walmart employee has been charged with 5 counts of shoplifting that happened at the Walmart he used to work for. What is the solution to this problem? How can the retail industry prepare itself for the many shoplifting incidents that occur every day at their stores?
Many industries experts agree that training is the logical solution. Training, constant vigilance, and state of the art technology that can help prevent, deter and even stop shoplifting while is happening.
For more news about shoplifting, follow the links below.
---
Walmart nabs former employee for shoplifting — in his corrections officer uniform
A onetime Walmart loss prevention officer was arrested Friday for shoplifting from his former employer.
George Smalling, 38, of Pasco, was booked in the Franklin County jail on five counts of shoplifting in what the Pasco Police Department described as an "interesting" case.
According to the police department, Smalling worked at the Pasco Walmart pursuing shoplifters until he left in 2015 to become a corrections officer with the Washington Department of Corrections prison system.
This summer, a current loss prevention officer was investigating a series of shoplifts. In connection with the investigation, the store determined that a particular man came in at least 45 times during that period. The suspect would use the self-checkout lane. He would scan one item but pass others over the reader. He would pay for the scanned item and then leave.
---
Shoplifter attempts to steal laundry detergent. Does not get away clean.
Police are asking for your help to find a shoplifter. If you have information about this crime, don't try to take action on your own. Anonymous tips, including photos and videos, can be submitted by texting LEXPD plus the tip to CRIMES (274637). Information can also be sent anonymously through Bluegrass Crime Stoppers at 859-253-2020 or Bluegrasscrimestoppers.com.
Crime of the Week
This week's Crime of the Week involves a shoplifter who struck the Kroger store on Bryan Station Road.
---
He tried to leave Walmart with steaks in his pants, police say
A 25-year-old man was arrested Monday in connection with shoplifting after police say he hid steaks in his pants and left without paying at a Myrtle Beach grocery store, according to a police report.
Payton Christian Abbott, 25, was cited in connection with shoplifting, online jail records show.
Myrtle Beach officers were called about 11:30 a.m. to the Walmart Neighborhood Market at 3915 N. Kings Hwy. in regards to an alleged shoplifting incident.
---