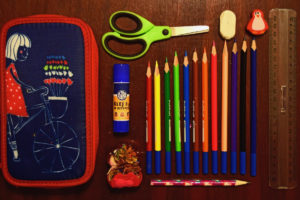 Summertime is here and now is the time for children to rejoice and shout for glee as most are finishing up their school year. Put away the pens and paper and lunchboxes and prepare to enjoy the warm, sunny days. No Mr. and Ms. Retailer, not YOU, the children. The moment the schools let out is the moment you should be preparing to roll out the merchandise for the next school year. Wait too long and you will be a step or two behind your competition.
Certainly, most children will not be anxious to go school shopping so soon after starting their vacations but we, the dads and moms out here, are always looking for special sales and deals that will save us a few bucks. Education may be free but all of the accessories are not. Think about what we parents are purchasing to send the kids off to school. We are asked to provide crayons, pencils, pens, glue, and paper. Lunchboxes, backpacks (wait, regular or see-through?), binders and notecards also fill our school supply lists. From there schools and grades may have varying requirements. The retailer who is going to be top of the class is the one who will anticipate the needs of the pupils and parents and prepares accordingly.
What are some of those things that you can do to get the head start that will drive sales for your business?
If you aren't keeping old school supply lists filed away, start doing so. This will give you a good idea of what teachers will probably ask parents to provide the coming year. The schools will probably not make lists for the coming year available until July so knowing last year's information gains you some advantage.

Advertise. Use social media and in-store flyers as cost-effective means of getting the word out to customers. You may also want to check on the price of a radio spot to air a short commercial. If you only rely on posting flyers and banners in the store you are limiting your advertising to those customers already shopping with you. You need to spread the message to bring in additional shoppers.

Create displays near the front of the store that focuses on school-related supplies that complement each other. For example, create an endcap with binders, loose-leaf paper, pencils, pens, crayons, compasses, and protractors. If your store is geared to clothing then displays for children's clothing should be on focal points. Regardless of what your store specializes in, order a one-time shipment of some lunchboxes and food storage containers for sandwiches, chips, dressings/sauces. Parents are conscientious of rising school lunch prices and reusable containers appeal to both the cost concerned and environmentally focused families.

In the process of creating the displays don't forget about merchandise protection. Use electronic article surveillance labels and hard tags on everything. Don't lose sight of the fact that those displays will also attract the attention of shoplifters and they will steal merchandise that isn't secure. Small and expensive items will be especially tempting.

Begin clearance pricing some summer products earlier to free up floor space for back to school related merchandise.

An easy to overlook opportunity is to keep your check lanes full of impulse buy goods. Snacks and drinks are top items but finding cool gadgets and pens that may interest students and adults are great opportunities for a few extra dollars.

Don't forget about add-on sale items. Calculators tend to be popular and they need batteries. Peghook your calculators, keeping your high-end TI-83's, TI-84's, etc. in Alpha Keeper boxes to make them available to customers while protecting them from theft. Add the corresponding AA and AAA batteries on additional rows of peg hooks and deter theft by using Auto Peg Tags. Speaking of batteries it would also be a good idea to place battery chargers and rechargeable batteries in this type of display. Again, expense minded and green-minded patrons will find something to appeal to them here.
It is not always easy to think outside the box when anticipating the needs of school students especially if your store specializes in one area but it can be done. Be creative and it can pay dividends.
A final thought on back to school sales opportunities. Some retailers offer special deals to teachers (who present official credentials). Not only does this help your profit line it is a huge boon for teachers who often use their own money for classroom supplies. You can develop a new loyal customer base with such an offer. Make preparations early for the return to the classroom and you will demonstrate you have learned your lesson well.
---