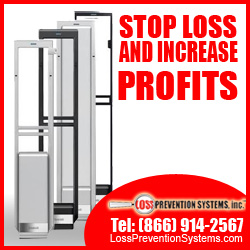 NO! not yet. Before we begin patting ourselves on the back you must remember that your Sensormatic System is only part of your shoplifting solution. Your Sensormatic System will protect your merchandise however, many shoplifters are determined and will try to steal anyway. The Sensormatic System itself is a deterrent. Its mere presence will dissuade many shoplifters.
There are TWO PARTS to the shoplifting solution. Loss Prevention Systems, Inc. (LPSI) did not invent them, we simply perfected them both. So in your case:
✓  Sensormatic System installed by Loss Prevention Systems.
 √ Staff training by Loss Prevention Systems. LPSI includes FREE anti-shoplifting training with every Sensormatic system you purchase from us, as often as you reasonably need it.

Let's discuss the training to teach your staff how to deter shoplifters. First, we have to get our heads straight about your Sensormatic System. The system is there protecting your tagged merchandise 24/7. It is critical to have but you must realize that to fully stop shoplifters, the first line of defense must be customer service. Shoplifters hate customer service. They do not want you near them and need privacy to conceal your merchandise even if only for a moment.
We want to teach your staff to approach every customer and at a minimum greet them. Did you know that over half of all shoplifters are classified as "impulse" shoplifters? An impulse shoplifter is someone who has entered your store and will only shoplift if you give them the opportunity. Many studies over the years have shown that most impulse shoplifters will not shoplift in your store, during that visit if they are properly greeted! Wow, that means that if you or your staff greet them when they walk in the door with a verbal greeting such as "welcome to xxxx" and as important use good eye contact that it is likely that the impulse shoplifter will not steal from you during that visit! So you have put a serious dent in your shoplifting losses by just greeting customers.
Of course, greeting customers also helps us to achieve higher sales. It gives the legitimate customer a chance to ask a question and makes them feel more at home. Think about it, good customers love customer service, shoplifters hate it. Customer service everyone to death and increase your sales and reduce your shoplifting losses all with one technique.
---