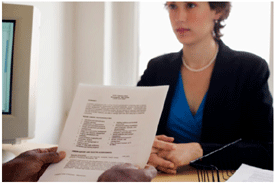 Are you hiring someone who has the tendency to steal from their employer?  Hiring new employees for the season and for permanent positions is a difficult task in and of itself. But do you consider employee theft in the hiring process?
With little additional effort, you can screen out candidates that are prone to, or even have an ambivalent attitude towards theft from your company. The folks that are ambivalent tend to be the ones that will look the other way while others, both internal and external, steal from you and will not tell you that they suspect or see theft occurring. The normal excuse they give themselves and you, if confronted after the fact, is "I did not want to get involved" or "I am not a rat". Both of these are copouts. But what you need to consider is that you, the owner or manager have probably set the foundation for this attitude.
To keep employees from stealing from you, you must start at the very first step in the employment process. When someone applies for a job, they need to understand that you will check their criminal background. You should have a separate background check release document from your company's application. That sets the beginning of theft prevention.
During the interview process are you asking questions about employee theft and the candidate's attitude towards it? If not, you are missing out on a very simple step that will reveal much more than you expected. These are questions that you can and should be asking. Loss Prevention Systems offers to our customers live, online training that is FREE of charge about this very subject. The seminar is titled "Pre-employment hiring: What they don't tell you will HURT you". This training teaches you and your staff how to ask better questions regarding loss prevention areas. Do you want to find out more about not only the candidate's involvement in and attitude about employee theft but also what they have stolen from previous employers and their use of illegal drugs? This session will teach you those techniques.
Next, when you make the offer of employment and conduct their orientation, are you explaining your policy and procedures regarding theft? Do you let them know that it is THEIR obligation to bring any suspicion or actual theft to your attention immediately? It is a job requirement. They are getting paid by you for a job you hired them for. This includes loyalty to you and the company. But if you do not discuss it, how can you expect them to do what you ask?
Do you have a theft policy document or handbook that they must read and then they sign an acknowledgment receipt that is placed in their HR file? Again, if you are a customer of Loss Prevention Systems, we will provide you with a draft LP handbook that you can modify to fit your company. It lets the new employee know that the only thing they may take from the company is the air in their lungs. It also helps them to understand what they are to do for suspected or witnessed theft. If you are a Retailer, it also covers shoplifting.
Your next step is to reinforce this message with all employees at company meetings. This can be as simple as asking questions. Ask for a show of hands to a question like "Have you ever worked at a company where someone was caught stealing?" follow up with "how did that make you feel?' or "How would you feel if you found out that a co-worker was stealing from the company?". Most of the time employees respond with a feeling of betrayal, disbelief, shock, anger… You should then expand on those feelings with a discussion. Instead of you "preaching", let them express their thoughts. You should simply guide the conversation. Ask employees what they think should happen to someone who was caught stealing from the company. You are likely to hear harsh terms like jail, arrest, fired, shot at sunrise and more. But just as important, observe the employees that take a disinterested, joking or mild approach. If they themselves are stealing, they are more likely to use softer words such as "get in trouble, lose their jobs, disciplined…" That does not mean that everyone who reacts in a more mild fashion is stealing. That may simply be their personality or they are uncomfortable talking about conflict type situations. But this does give you more insight into their thinking. Employees that mock or make fun of the conversation should, in my experience, be watched closely.
This process shows everyone that you are not afraid to discuss the topic and are prone to take action if it does occur. It also shows employees that have or will think about stealing from you that other employees will not tolerate their actions.
Start this process now! Do not wait. You want a good, profitable selling season. Contact us if you have questions or need assistance.
---