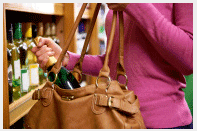 I was recently the Keynote Speaker at a retail conference. The audience was very engaged! As a speaker and trainer I like those situations best.
We had many great questions and comments. But there is one that I continue to think about. Someone mentioned that a way that shoplifters are now discouraging you and your staff from providing customer service is by using a cell phone.
Let's step back. The first key to preventing shoplifting is the liberal application of customer service. Impulse, armature and professional shoplifters cannot ply their evil trade if your staff is customer servicing them to death.
So now enters the cell phone. If the shoplifter is on a call, real or pretend then we are likely, out of courtesy not to approach them. What a wonderful way to keep us away from them in our own store! This is something I had never considered before. In fact what I have been thinking about is that there are other tools they could use to accomplish the same thing.
Listening to music with a head set on, talking on a two-way radio as if it is work related or how about being busy with electronic tablet or phone with email. Again any situation they can create to keep us at arm's length.
However, there is a well-established solution to this. All of these techniques fall under the category of distraction or diversion. The solution to this tactic is simply MORE customer service.
Those actions by a "customer" are at a minimum rude. It is also a red flag that you should now pay attention to. Being in your store, taking your time and resources and being on the phone is rude. But we do not want to respond in kind. Instead apply an even more generous application of customer service.
Stay with them, keep your eye on them and make sure they know it. A legitimate customer will feel it and get off the phone, device…. The shoplifter will have a different reaction. They will get frustrated. You are frustrating their efforts to obtain a bit of privacy so they can conceal your merchandise.
Frustrating a shoplifter is our goal. Drive them crazy and send them on their way hopefully never to be seen again, at least by you!
You can reach Bill Bregar at 770-426-7593 x101 or at bbregar@LossPreventionSystems.com. Bill has over 35 years of experience in the Loss Prevention industry. He has personally investigated over 2300 employees for theft and dealt with shoplifting all the way from his days of apprehending shoplifters as a store detective to the development of policy and procedure for several major retail chains in the role of Director of Loss Prevention.
---