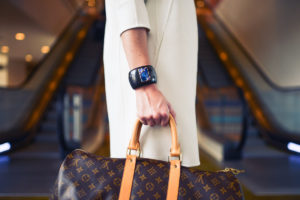 You think that you may be scoring a great deal on cheap, knock-off Electronic Article Surveillance (EAS) hard tags and labels, however, over time you find that you are missing shoplifters due to poor pick rates or hard tags that are easy to defeat. Why? To make real, quality EAS hard tags and labels it takes more effort and time. The materials and sophistication of the circuit is not something that can be easily done by a slave laborer in some dark factory in a third world nation. The labels we sell are all high-quality EAS labels and tags that are both Sensormatic and Checkpoint Systems compatible.
For example, we see hard tags that can be simply pried apart with a screwdriver. Or labels that fall off when the adhesive dries up. So what standards should you be applying to both EAS labels and hard tags?
LABELS:
High-quality labels have a high pick rate (sensitivity) at your EAS system. Our labels have some of the highest pick rates around.

Quality control is critical! Not every label manufactured meets the high standards that we set. That's why Loss Prevention Systems' labels that do not pass QC are marked. Those labels will probably work but we suggest that you do not use them. However, every roll of our labels has 2000+ labels. How do we do that? See the next point.

Better value! Because the QC mark does show up from time to time, we want to make sure that you get at least 2000 labels on a roll. To achieve that target we actually add approximately 2% more labels to each roll. It is rare to have 2% marked labels on a roll and so you end up with more good labels.

Aggressive adhesive! When you put our label on your merchandise, it is there to stay. After about an hour the adhesive sets up and that label is not going to fall off.

Variety! We stock many sizes and shapes labels that are Sensormatic or Checkpoint Systems compatible. One type of Checkpoint compatible RF label you should check out is our clear label. It can be applied directly over your merchandise barcode and your scanner can scan right through it. This helps disguise the label and it does not cover up vital information such as directions on your merchandise packaging.

Our labels will not reactivate after they have been deactivated! When you pass our label over a quality deactivation unit, it kills the label and the label stays dead. It will not reactivate after your customer leaves the Point-Of-Sale (POS) cash register and before your front door. Cheap labels can and will do this in many cases at an alarming rate. This causes an unnecessary alarm that you have to deal with, embarrassing your good customers.

Most of our labels are faced with Thermal Transfer (TT) paper. That means you can print on them with your TT printer which you use to print your store pricing labels. This also helps disguise the EAS label.
HARD TAGS:
Look at the seams of a hard tag. Are the seams welded together so that they are smooth and cannot be pried apart with a tool? Our hard tags have a tightly welded seam.

Snag clothing? Poorly made hard tags can have a rough seam that will snag your clothing merchandise.

Our hard tags come in a wide range of unique styles, sizes, and colors.

The clutch mechanism in our hard tags grabs the pin and does not let go easily. The best hard tag in the world is useless unless the tag can securely hold the pin.

We have some of the smallest hard tags on the market. They can not only be used for protecting many types of jewelry but can be used on any other product that you can clip it onto.
So don't cut yourself short. You paid for and installed an EAS system; do not let your investment give you an inadequate return because you use cheap labels or tags. Interested in samples of Loss Prevention Systems' labels and hard tags? Contact us for a free sample pack.
---