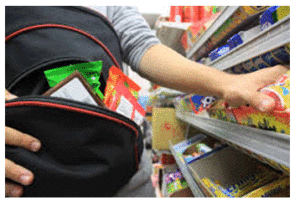 I was once asked why I kept toys on my desk in my Loss Prevention office. I had two reasons, the first was they were collectible superhero figurines (The Tick to be precise) and the other was to keep children entertained. It is a sad fact in Retail Loss Prevention but there are children who shoplift, there are parents who shoplift and there are parents who use their children to help shoplift. As a Loss Prevention professional, it is not hard to handle an adult who steals. There may be anger, tears, and pleading but these are adults and they made a choice to steal so there should be consequences. What is not so easy to cope with is the child who has to sit in the office while the parent is being processed and does not understand what is taking place. There were many instances when I had to try to keep these young ones entertained as mom or dad were answering questions about the crime, providing personal information or trying to contact a family member or friend who would be willing to pick up the child. Add to the mix a parent who is throwing a conniption fit or making the scenario worse by bawling and wailing in front of the child begging you to let them go "Just this one time and it won't ever happen again, I promise." It becomes quite annoying. It also upsets the child who becomes a prop for the parent. The toys were my prop to entertain the children in a pinch.
Not everyone can be a model parent, after all.
     It may be hard to comprehend but aside from just shoplifting with their kids in tow, there are parents who use their children as tools or props to commit their crimes. What is worse than a parent who removes a price tag from a purse, straps it over their daughter's shoulder and walks out with her and the purse? Well, it could be worse when the parent scolds the child and tells her she shouldn't have done that when the parent is caught by Loss Prevention. Then there are the parents who walk through the store pushing a baby in an infant stroller with the little baby covered by a blanket. What can these doting mothers and fathers do with a cute little baby you may ask? It turns out baby strollers with blankets make great hiding places for designer blue jeans…MANY pairs of designer jeans. Aw gee, let's not forget one of my all-time favorites, the pregnant mommy who gets more pregnant simply by walking through the store gathering clothing.
     If you aren't shocked by now it could shake you up to know that some parents not only use their children as props or to disguise their own theft, some will steal while the children steal too. I caught two mothers and their combined five children ALL stealing in my store. The children wandered around areas of the store that interested them and the mothers did likewise. Everyone took their turn cleaning house. I once caught a father and his teenage son stealing jeans in a department store I worked in. It really gave perspective to the term, "Like father like son"… although I think the saying, "The apple doesn't fall far from the tree" also came to mind. The unfortunate reality is, those cute, cherubic faces and tiny tots may not be just little cutie pies accompanying their mom or dad in your store. It is not uncommon for these youngsters to be covers for theft or potentially cranky crooks themselves.
     So how should retailers handle situations like these to prevent shoplifting family frolics? The number one deterrent to all shoplifters is customer service for everyone. Adults, as well as children, should be acknowledged and assistance offered. Electronic Article Surveillance systems will discourage adults from stealing. And while the systems may help prevent teenaged terrors from 5-finger discounts they will probably not have the same effect on young kids. It is probably not a good idea to try to stop a shoplifter if you do not have trained Loss Prevention Personnel working for you. Bad stops and aggressive shoplifters can lead to costly and/or dangerous situations. Aggressive, non-stop customer service is in order if you have a strong suspicion someone is stealing. Most importantly don't let yourself be duped by those cute-chubby cheeked darlings. Those families might not be as charming as they look.
---