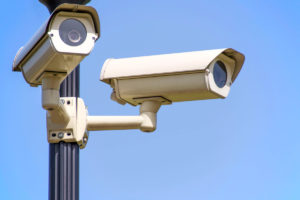 Now that fall is upon us it is getting darker earlier. These hours of darkness can bring unique challenges for retail owners. Have you ever considered that it is your responsibility to help keep customers and employees remain safe while they are on your property? It may make sense that you are responsible for employee safety but you are also obliged to help keep customers safe as well. This includes your parking lot and the exterior areas around the building. How do you do this? What do you have to protect against? Good questions and hopefully we can provide you with answers to those questions and suggestions to make your business safer.
     What is it that you need to protect against as the daylight hours become shorter?
The potential for robberies increases in the hours of darkness.

Slip/trip/fall accidents in the parking lot can increase when it is dark as hazards are more difficult to see.

Car break-ins can increase.

Working at night can have an impact on your employees.

The risk of violence can increase.
Planning for operating a store during extended hours of darkness can help prevent problems that could arise.  According to an Occupational Safety and Health Administration (OSHA) power point presentation, "Recommendations for Workplace Violence Prevention Programs in Late-Night Retail Establishments" one of the panels states"; "Late-night retail businesses such as convenient stores, liquor stores, and gasoline stations have experienced high homicides and assault rates". The same power point on panel 5 goes on to mention the following as risk factors for late-night retail workers:
Exchange of money

Solo work and isolated work sites

Sale of alcohol

Poorly lit stores and parking lots

Lack of staff training in recognizing and managing escalating hostile and aggressive behavior
There are things store owners can do to mitigate the risks to their employees and patrons.
Inspect parking lots and sidewalks now for potential trip hazards. Have curbs painted yellow to make them fire lanes as well as making them brighter to reduce the chance someone trips on them. Paint parking stops or blocks a reflective white or yellow again to lower the risk of tripping.

Cracked or raised sidewalks should be repaired or reported to a landlord.

Check the parking lot light timers to ensure they turn on as it becomes dusk.

Inspect all parking lot lights and have burned out lamps replaced.

Add extra exterior building security lights.

If you have not installed them, have night vision security cameras set up to monitor the parking lot, sidewalks, entrances, and corners that may be out of view.

Install interior cameras and Public View monitors. These cameras should be at the front entrance and exits, cameras that capture activity at and around cash registers and a camera in a cash office that can see the safe and as much of the office as possible.

Have a cash drop at each register for $50 and $100 bills.

Keep register positioned away from customers so they cannot reach over the counter into the till.

Always have at least two people working in a store and never allow one person to close or open alone.

If you have two people working consider having an employee offer to watch a patron walk to their car when they leave. Patrons will appreciate it and it will make them feel safer.

If your credit machine accepts debit cards think about refusing cash back transactions after 6 pm. You won't have to make as many trips to the safe to refill the register after dark.

Use a counterfeit bill detector for all $20, $50 and $100 bills.

Train each employee on how to recognize and de-escalate aggressive situations. This is also a good reason to have a second person working.

If you can only afford one employee at a time and your business is in a strip mall partner with a neighboring business to work together to provide mutual security/support at opening and closing.

Employees may get tired more easily as the daylight decreases. Be aware that it can lower their alertness while working and when they drive home. Encourage workers to be careful so they don't hurt themselves or others.
Operating stores can be different when darkness comes along earlier. Taking the right precautions, being aware of potential issues and planning ahead can make that transition easier. Don't take hours of darkness lightly.
---