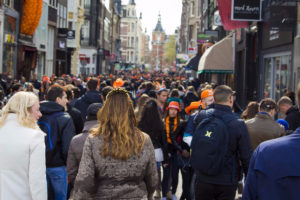 Black Friday and the holiday shopping weekend has generally been the time of the year that most retailers are excited about. This is the time when shoppers are going to pull out their wallets and spend money. Deep discounts, doorbusters, even gift bags for the first customers, have been used to entice shoppers to visit stores early. It has been so successful as a marketing tool that stores have even advertised early Black Friday sales in JULY! Unfortunately, it seems that there has been a dark cloud overshadowing this weekend and it is more ominous each year. This cloud is one that can turn a Black Friday into a Bleak Friday if a store owner isn't prepared for it.
     The black cloud involves the safety and security of customers and retail sales for the store owners. There are factors owners must take into account to keep that cloud from raining on a weekend that should be making shoppers happy and keeping registers ringing. As a Loss Prevention Manager, I have seen to it that my stores have remained safe during the Black Friday weekend but I have followed incidents at other stores where things turned ugly. Customers have gotten hurt rushing into stores. People have fought over doorbuster items that were limited in quantity. I have had to intervene when shoppers argued over not receiving a raincheck for a one-time purchase item. I have also worked a Black Friday when all of the registers went off-line and customers became angry and abandoned shopping carts. All of these can have a negative impact on sales and hamper the weekend that should be one of significant profits for a store.
     Here are some suggestions for preparing your store and employees for the event:
One of the things that set customers off is waiting in a line only to find out that a particular doorbuster is sold out. If you have some item you expect will draw in customers but there is a limited quantity, have a ticket for each item. Have someone go through the line as it forms and ask who is there for that item. Pass out the tickets and set aside enough to fill those orders. Continue to do this until you open the doors. If you run out of tickets before you open the doors be honest with the customers who are continuing to walk up and let them know you are out of that item.

Consider hiring a security company to provide a presence at the front of the stores to help keep order. A lot of altercations begin outside when people who have formed orderly lines and have waited patiently believe others are cutting in front of them. They are also a great presence to keep shoppers safe as they leave with their purchases to go to their cars. If you don't want to hire security you can see if local police are willing to make frequent drive-by's. Another alternative is to have two or three employees mingle with the line, talk about the sale items and even hand out store maps where specific sale items are located.

Check all of your point of sale equipment at least a week in advance to try to ensure there are no equipment failures on Black Friday.

Have a technician test all of your electronic article surveillance equipment to minimize false alarms and reduce the opportunity for theft to take place.

A lot of cash transactions take place on this holiday weekend and it is a good time for counterfeit bills to be passed. Be sure cashiers are using counterfeit pens for $50 and $100 bills. If possible a counterfeit bill detector for each point of sale is a better solution. Know that if you take counterfeit bills your store is not reimbursed or covered by your financial institution.

If your store happens to use display cases for some high ticket items, be sure more than one employee is carrying keys to assist customers and minimize wait times (also consider all of the retail anti-theft options available from Sensormatic that can improve security while enhancing sales).

Think about offering free coffee or tea to patrons who may be waiting outside for the store to open. You would be surprised at the positive response you will get from shoppers.
By taking the time to prepare in advance and plan out your Black Friday weekend you can minimize safety and security risks. The same planning will boost sales and ensure that your business truly experiences a very profitable holiday.
---