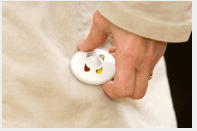 For a small business owner, bringing sales to their business is not an easy feat.  It requires lots of hard work and diligence.  For an owner or manager of a retail store, it requires a lot of hard work to be profitable and to prevent shrink and losses in their stores. 
For them, the acquisition of affordable technology and software to help them prevent losses due to shoplifting, shrinkage, clerical or merchant errors is instrumental in having a successful and profitable business.
For many years now, the increased use of technology and the benefits associated with it has been self-evident in many industries, and the retail industry is no exception.
The value and transformation technology has brought to retailers, merchants and customers have been invaluable to them and to their bottom line. Technology usage has allowed them to decreased costs while maintaining better data and solutions that allow them to target specific areas within their business.
RFID systems and software have been around for many years now, but the adoption rates have increased considerably over the last few years due the lower cost and ease of use. Still, small retailers that are struggling financially will be less inclined to invest in an RFID system or any other type of loss prevention system despite needing it most.
The cost associated with acquiring a system that will help prevent losses, and help you target issues in your retail store can help you recover the cost associated with the system within a year in many cases.
Loss prevention systems and the costs associated with them can vary considerably, but businesses have many options depending on what they want the system to accomplish. Here is a technology linked with the retail industry that may be gaining ground with many benefits associated with its adoption.
RFID technology
RFIDs systems usage has provided many merchants great ROI and revenue increase within the first year of usage. The capabilities of this system to provide accurate inventory to the store owner or manager of the stores has seen an increase in their revenues while providing customers the merchandise they need and want.
RFID technology will allow businesses across industries up to the minute data and reliable inventory data.
RFID technology will save expenses where inventory related labor is concerned while achieving better and more accurate inventory data.
Acquiring a  loss prevention system can be daunting in the beginning due to the financial expense the business has to go through, but it is necessary if the business wants to stay competitive and profitable.
---